Post by mae on Jan 24, 2016 20:37:29 GMT

Name: Emmeline Black
Species: Human-ish.
Status: Alive - yay!
Occupation: Student/Watcher
Affiliation: Currently Accepting Applications (Possibly Elijah Lachlan - don't tell Liv.)
Family: Thomas Black (Father)
Elizabeth Black (Mother - Deceased)


---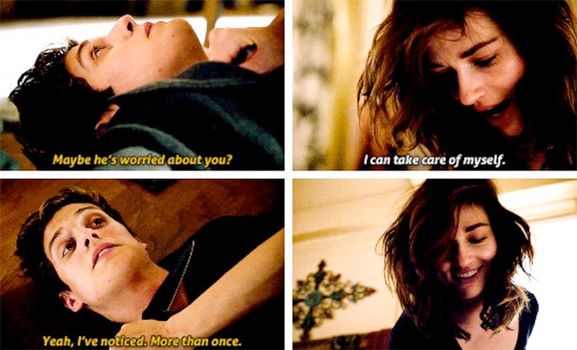 Name: Liviana "Liv" Blackthorne
Species: Human
Status: Alive
Occupation: Hunter|Former Altar Girl (Don't Laugh)|Eli's Keeper (And Keeper of Eli's Soul)
Affiliation: Elijah Lachlan
Laurence Pascal
Sebastian Khayne


Family: Reed Blackthorne (Father)
Kristiana Black (Mother - Deceased)
To be fair, the morning after, she felt like death warmed over. She figured that was probably par for the course. There was no asking her father, considering that training and everything attached had been stopped during his whole… 'No Hunting' speech. Fine. Well. She would just learn some other way.
Maybe… she would ask Sebastian. Christ. ….Did she just think that? She grabbed a shower, hoping it would help her to wake up. She scrubbed at her neck, carefully as she could. Possibly hoping when she would get out the wounds would be gone.
Nope. No Sir. Still there. Eli was going to have kittens. Because just as much as she called Sebastian the eye of Sauron. She usually let her guard down around Eli. And… he found out things. She sighed. Well. Fine. She got changed, slipping on jeans and a black sweater. She combed through her closet, finding a scarf, and after making sure to put some of that stuff that Sebastian gave her the last time that she got hurt. And then bandaged it. Small as she could make it. Yep. That was her go to thing… she wrapped it up carefully with the scarf… and sighed. Yea. This would work great.
She had at least talked to Eli this morning, having gotten fifty texts from him, maybe not that many… but close. And then she had bumped into him for a hot minute before he was off again. And… that was for the best tonight. She had managed to clean up the kitchen, thanks dad. He had at least tried… sort of. She swept the bottles into the trash can, as well as the burnt pancakes and then hid those under some other things.
Throughout the day she texted Eli off and on. She still thought that he had sort of lost his mind… considering. But that's ok. She still loved him anyway.
It was late, as she was heading down the sidewalk, her messenger bag swept across her with a myriad of implements of doom for her little vampire friend.
Her neck was achy… and she was a bit grumpy as she had been coming up empty in a lot of different places. She was sort of lost in her thoughts, as she blinked seeing Laurence.
Jesus tapdancing turbochrist.
Elijah had not been kidding.
She felt her cheeks flush, and then she ducked her head a moment. God help the girl, because everything… every single synapse was telling her brain that she needed to turn around… and just walk away. Because… this was a terrible idea.
She knew what Eli had read. He also knew… that had been in grade school. And… Christ. Every time she thought about that journal she got all the more pissed. But. Such is life. She knew, that in just mere seconds, he would be close… and if she turned now she would look like such an arse.
"Hi Stranger…" She said with a bit of a warm smile.
See? Nice. She could be nice. Mark this down guys.
---